Play Space Wars 2 Powerpoints At These Casinos
ABOUT THIS SLOT
NetEnt have followed up their classic Space Wars hit with a much-improved, audacious Cluster Pays grid slot that mixes some of the vibe of the original with the gamification and progressive features of Play n Go's Reactoonz slot. It's quite the epic and if you enjoy games where you can build towards a big pay off by collecting symbols that combine to trigger events in an interesting way … and if you're into slots with a lot of multiplier action, then this could be the game for you.
Space Wars 2 is available now at any casino with Canada online slots.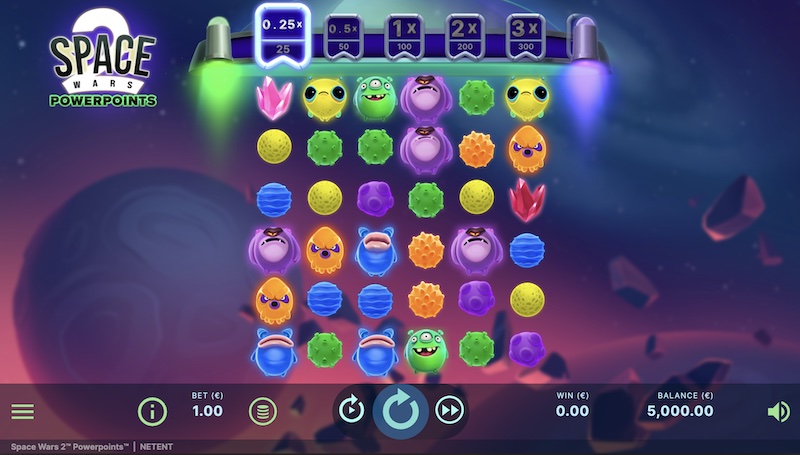 RTP, VARIANCE AND PAYOUTS
Space Wars 2 Powerpoints runs on a high variance game engine. NetEnt are not especially well-known for their super-high-risk games but they have a few in their catalogue, including the excellent Dead or Alive 1 and 2. Will this prove to be another volatile classic? Time will tell, but you can be sure it will mix frustrating runs with no joy before unleashing some big payouts to a lucky few.
The top win is 10,020x and the Return to Player is set at 96.05% which is about average for a video slot game.
Spins start at 20c per play.
SYMBOLS AND PAYTABLE
The action takes place here on a 6×6 transparent grid, floating somewhere in the far reaches of space with planets and asteroids floating past in the background. The symbols themselves, which must form clusters of three or more to trigger wins are as follows:
Space Rocks – the lowest paying symbols – from 0.3x for 3 in a cluster to 0.8x for 8 in a cluster
Aliens – these are medium paying symbols – from 0.6x for 3 in a cluster to 1.6x for 8 in a cluster.
Ruby Crystal – the premium payer – worth from 0.9x for 3 in a cluster to 2.4x for 8 in a cluster.
Look out as well for the mini spaceship Row and Column Blaster, the mysterious Zapper symbol, the Bomb and Wild and Multiplier Wilds symbols which all play a crucial role in increasing your Powerpoints and eventually unlocking the free spins round, as we explain below.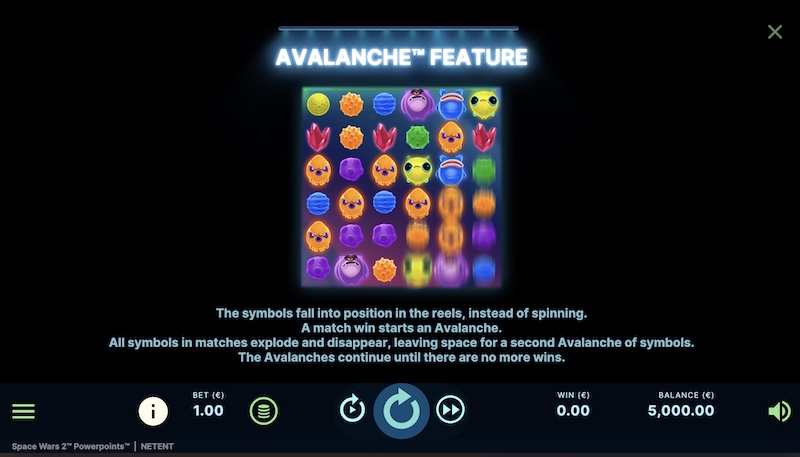 GAMEPLAY AND FEATURES
So, how do you play Space Wars 2? Well, it's all about progressing through the levels, collecting bigger and more effective multipliers as you go, before eventually hitting a bonus round where the chances of winning big are greatly increased. There are a ton of features to help you along the way, and they work like this:
Avalanche Wins – everyone's Cluster Pays slot mechanic, Avalanche Wins, is in full affect here. After any winning spin, the winning symbols drop off the grid to be replaced with new ones. When this happens, a bunch more drop in to replace them. Maybe creating more winning clusters. When this happens, the process repeats, until no more wins are formed.
Powerpoints – these are central to the game engine. Whenever a winning cluster forms, Powerpoints are added to the meter to help towards the next Level-Up where a higher win multiplier is awarded. Once you hit 1,000 Powerpoints, the free spins round is unlocked.
Column and Row Blaster – when you land four symbols on a winning HORIZONTAL line, a COLUMN BLASTER is awarded. All icons except the wilds or feature symbols are now removed from the corresponding row and Powerpoints are added to the meter. This is done with an animated space rocket that blasts all in its path!
When a four symbol VERTICAL wining line is achieved, then a ROW BLASTER is awarded and  the appropriate symbols in the corresponding reel are removed.
Zapper –for symbol clusters or 5 or 6, special Zappers appear to remove up to 4 types of symbol from the grid. This feature is extended in the bonus round to trigger when symbol clusters of up to 8 occur. When symbols are removed new ones drop in to replace them, giving you more chances to hit winning combos.
Bombs – when wins are made of identical symbols in a vertical or horizontal row, then a BOMB is added to the grid. When this happens, they explode and remove themselves and all touching symbols, adding further Powerpoints to your meter. Multiplier Wilds will combine if exploded to add further value to the Powerpoints meter.
Wilds and Multiplier Wilds – come into play in both base and bonus games. They drop in when a cluster of 3 is built. Multiplier wilds are only applicable in the bonus round where they can come with a multiplier of up to 25x.
Still with us? Then check out what happens when all this little features combine!
Combination 1 – Bombs AND Blasters – for Column Blasters THREE rows are removed, for ROW BLASTERS, THREE reels are removed.
Combination 2 – Bombs AND Zappers – up to THREE symbols convert to bombs before exploding.
Combination 3 – Zapper AND Blaster – up to THREE symbols convert into Column or Row Blasters.
Free Spins – Your ultimate goal is to trigger the free spins round and you'll need to collect 1,000 Powerpoints.
NOTE: Free Spins are played out on an expanded 8×8 grid with re-triggers available too. That means its now possible to land wins at the maximum value for each symbol type.
Bonus Buy – Want to dive straight into the Free Spins round? You can do with the Bonus Buy – just pay the following:
75x stake – gets you 8 free spins
140x stake – gets you 12 free spins
250x stake – gets you 16 free spins
OUR VERDICT
There is a lot going on here so it took us a while to get our heads around what was happening on the grid. But once you are locked in and building your Powerpoints and working towards the free spins round, this is a really fun slot to play. One word of warning. As a high risk game, it doesn't always deliver. You could regularly be looking at a few dead spins on the bounce, so set your stake at a modest level to avoid burn up. Aside from that, the gameplay was excellent and it was enjoyable watching the feature combos come in. You'll get used to seeing chaotic scenes on the grid as bombs and zappers go off to release more symbols and hopefully add to your Powerpoints total.
In summary, this is fine and hugely entertaining slot game. So grab your space suit and hit the reels. Good luck and have fun!!